About Dr. Castanet
Dr. Craig Castanet graduated from Palmer-West Chiropractic College in 1986. He has 35 years of clinical experience; including 18 years in an orthopedic, physical medicine, and physical therapy clinic, participating in the treatment of more than 40,000 patients. He also dedicated time each week, for 5 years, in a neurosurgical practice, learning surgical indications and procedures. Unlike most chiropractors, he has always had a decidedly "medical orientation". He has excellent professional relationships with pain physicians, orthopedists, and neurosurgeons because, sometimes, injections and surgery are appropriate.
He has always sought the best, newest tools and methods in patient treatment. His exceptional interest and competency in treating neck and back pain derive, in part, from his personal experience of suffering from sciatica for 6 years, previously. Such chronic pain provides the kind of insight and empathy that books, alone, cannot.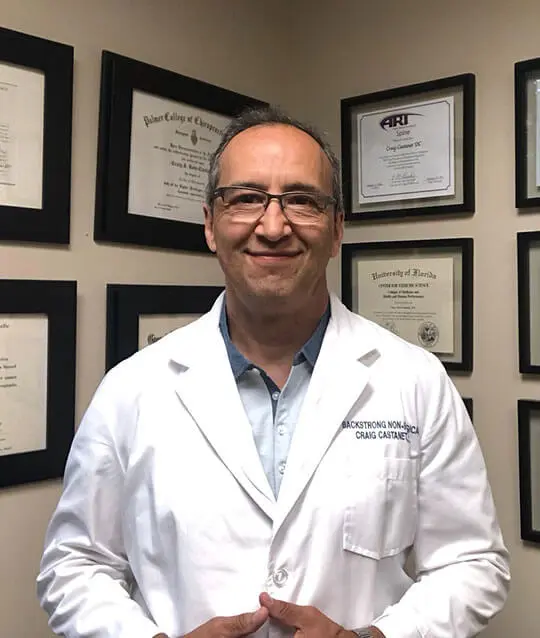 Backstrong Clinic in Decatur and Atlanta, specializing in Chiropractic, Physical Therapy and Spinal Decompression treatment for neck and back pain arising from herniated discs, pinched nerves, sciatica, joint pain and more, including the Following Conditions
Spinal decompression therapy

Disc degeneration and Degenerative disc disease treatment

Spinal Stenosis Treatment
Chiropractor Fibromyalgia

Spondylolisthesis Treatment

Chiropractor for Sciatica and Sciatic Nerve Pain
Chronic Lower Back Pain Relief
Nerve pain and nerve damage relief
Decatur and Atlanta physical therapy and chiropractic treatment for back pain and neck pain
Dr. Castanet specializes in difficult neck and back pain arising from herniated discs, degenerated discs, bulging discs, spinal stenosis, sciatica, and pinched nerves.  With 35 years of experience in orthopedics, physical medicine, physical therapy, neurosurgery, and chiropractic, he is familiar with all the non-surgical and surgical treatments available, and their relative efficacy.  For many patients, physical therapists, and chiropractors, poor treatment outcomes are common, frustrating, and dispiriting.  Dr. Castanet experienced this too, but in 2006 he decided….
Spinal Decompression Therapy by Georgia's Only SpineMED Provider
Dr. Castanet is the only provider in the state of Georgia using the superior SpineMED spinal decompression treatment.  This is the most direct and effective treatment for the cause of about 98% of difficult neck and back pain.  We recommend you listen to some of our videos on a variety of spinal topics, to learn more about the cause of common neck pain and back pain, and why our treatment is more effective than other treatments.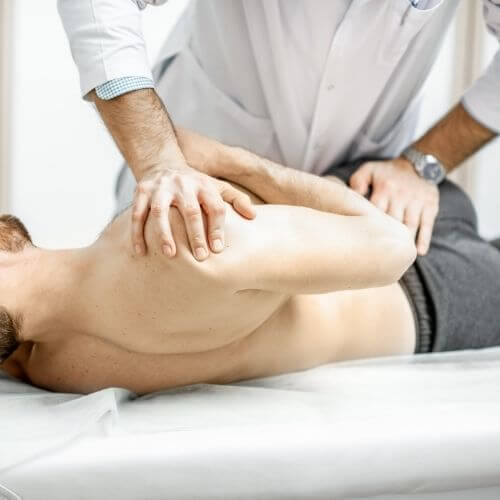 A Chiropractor in Decatur GA with unmatched medical experience
While difficult neck and back pain is a very common problem in medicine, and diagnostic imaging, e.g. MRI's and x-rays usually reveal the likely causes of such pain, and these causes are almost always COMPRESSIVE in nature and description, non-surgical providers, e.g. chiropractors and physical therapists, don't directly treat these problems by decompressing them.  That is why so many patients get modest or slow, or no improvement in their spinal pain.  In fact, for both chiropractors and physical….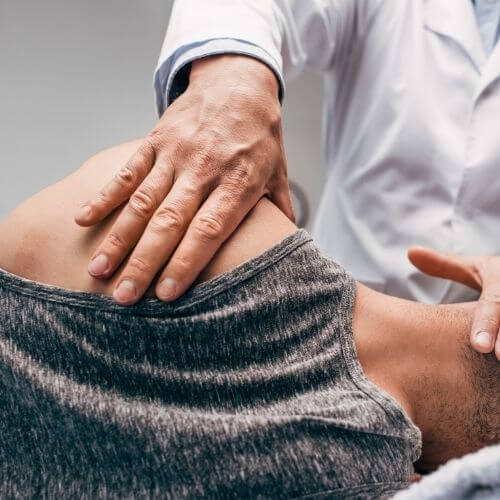 Clear Explanations of What Causes Back and Neck Pain
Dr. Castanet explains the simple pathogenesis of spinal pain in this video.  If you understand how, and why, spinal pain starts and progresses, you'll make a better choice about the treatments you choose.  Unfortunately, most health care professionals practice their specialty with a predictable bias in favor of whatever they were trained to do, and whatever insurance companies reward.  I guarantee that if you listen to Dr. Castanet, you'll be convinced that his explanation of spinal pain makes the most sense.  And, his advice about the most appropriate, effective treatment for spinal pain makes the most sense.  Dr. Castanet has never been wedded to a myopic approach to spinal treatments.  He is an independent thinker, has worked in more clinical specialties than other providers, and has chosen the most effective treatment for neck and back pain.  And if an even better treatment arrives in the future, he'll embrace that.
Chiropractic and Physical Therapy in Decatur and Atlanta
There is no other chiropractor in the Decatur area with Dr. Castanet's broad medical background. With 35 years of experience, including 18 years in orthopedics, physical medicine, and physical therapy, as well as 5 years in a neurosurgical practice, he has uncommon experience in the surgical and non-surgical practice of spinal problems. But he's not simply a product of a broader clinical experience. He sought a broader clinical experience knowing he wanted to be a better clinician for patients. And at this point, he thinks he is better qualified than other non-surgical specialists to know what is the best treatment for a patient at any given time, and what is the best non-surgical treatment available. And if surgery is indicated, he'll explain the problem and why you're best served with surgery. In fact, many of Dr. Castanet's most appreciative patients are those he could not help, and whom he referred to a surgical colleague.
In This Video, Dr. Craig Castanet Explains His Approach To The Treatment Of Difficult Neck And Back Pain, Using Spinal Decompression, A Uniquely Effective Treatment For Spinal Pain Arising From Herniated Disc Lesions And Pinched Nerves. With 30 Years Experience In Orthopedic, Physical Medicine, Physical Therapy And Neurosurgical Clinics, Dr. Castanet Explains The Rationale For His Unique Approach To Neck And Back Problems. "Most Of The Time, I Can Help You Avoid The Need For Injections Or Surgical Treatment. Other Clinics Don't Have The Most Effective Alternative Treatment To Injections And Surgery. That Means You'll End Up Getting Injections And Surgery You May Not Need". When Injections And Surgery Are Necessary, I Work Closely With The Best Pain Management Physicians, Orthopedists, And Neurosurgeons. Whatever Your Spinal Problem, I Will Be Able To Provide You A Solution To Your Problem.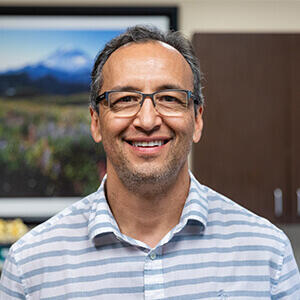 See His Experience & Education
Dr. Castanet has the most specialized equipment for the non-surgical treatment of neck and back pain arising from herniated discs and pinched nerve lesions. These are among the common causes of painful, compressive lesions in the spine. And spinal compression is what gives rise to 98% of neck and back pain. This equipment is expensive and, consequently, not found in other nearby physical therapy clinics. In fact, we are the only clinic in Georgia with SpineMED spinal decompression- the most effective, non-surgical treatment method, which treats the cause of most neck and back pain. See our illustrative videos on this website.  Specialized State of the Art Equipment for Disc Decompression
Experience Chiropractic And Physical Therapy Benefits in Decatur and Atlanta. Dr. Castanet Can Help You With:
Back, buttock and leg pain– This is the most common problem we treat, day in and day out, all day long. And the vast majority of patients will get resolved or much improved. If you're looking for help with your neck or back pain, and looking for physical therapy or chiropractic in Decatur or Atlanta, call us for an immediate appointment with Dr. Craig Castanet.
Sciatica– Pain that goes into your hip, buttock, thigh, leg and, or foot is called commonly sciatica, usually from a herniated disc that pinches one of the nerve roots in your lower back. We treat this problem all day long, every day. It is a common problem and we can almost always help you get better without injections or surgical treatment.
Neck and shoulder pain– This is another very common problem. If you have neck, shoulder, shoulder blade, arm pain, or pain between your shoulder blades, this is almost always coming from a neck problem. And effectively treating these patients will improve pain, burning, tightness, weakness and other symptoms felt in these regions.
Spinal Stenosis– This is narrowing of the spinal canal in your neck or low back. In the low back it can cause pinching of the nerves which may then cause pain down your buttocks or legs. In the neck it may cause problems with your spinal cord, affecting your finger dexterity or walking problems, e.g. uncoordinated walking.
Why Necks and Backs Hurt… And What are the Benefits of Disc Decompression Therapy for Neck pain and Back Pain?
Almost all back and neck pain is caused by COMPRESSION of discs, nerves and joints. We have all sorts of terms for this compressive process, and you may have seen these terms used in your MRI or x-ray report.  These include herniated discs, bulging discs, sciatica, facet arthropathy, ligamentum flavum hypertrophy, foraminal stenosis, central stenosis, disc protrusion, disc extrusion, spondylosis, etc.  These all comprise a slowly, progressive, degenerative compression of your spine.  These compressive changes are due to time, gravity, injuries, nutrition and genetics…..
Patient Testimonials
Dr. Craig is the best. His back and neck machines are like nothing I've ever tried. He always get me straighten out and back on track.
Stanley Mitchell
2022-05-03
My experience with Backstrong Non-Surgical was a good one. I was a little skeptical, but after the spinal decompression my neck felt much better, the stiffness was gone.
Hard to deny the effectiveness of this treatment. Only took a couple visits.
Nice an knowledgeable guy. He definitely helped me out big time was down like 2 weeks before a friend referred me to him. Thanks
Adrianna Bryant
2021-09-22
He is very nice and helped my back tremendously.
Christine Baldassari
2021-08-09
I saw Dr. Craig Castanet for neck pain. My neck "locked" in a position and I could not move it for several seconds. When it would finally "unlock", it was painful. This would happen often and sometimes daily. Dr. Castanet used spinal decompression on my neck and after 3 sessions, I had dramatic improvement. If I experience this pain again, I plan to return for more decompression.
Suzette Broderick
2021-02-22
Dr. C is a great chiropractor that knows what he is doing. He answers any and all questions you may have and will make you feel at home (even when some of the treatments can be uncomfortable). An easy five stars.
Cassandra Riggins
2020-10-27
I rarely and hardly ever give reviews, but when you recieve a service this valuable, I just HAD TO! And I hope someone takes the time to read my testimony! When I found Dr. Castanet, it was on a Friday afternoon when most chiropractor offices were listed as CLOSED! I was in excruciating pain and hadn't been able to sit or have a good night's sleep in weeks! After a couple of trips to the ER already, I was ADAMENT that I needed to see a professional that day! And he was the only one available in my area! And when I tell you, it had to be a sign from God! I walked into his office, and it felt like he treated me like I was his daughter or a family member! He filled me with so much information and treated me with such care! After the 1st session, I noticed positive progress. Then, after the 3rd session, I was almost completely out of pain! Unfortunately, with such back problems, I just didn't know what moves can cause me to relapse, and unfortunately I did! However, without hesitation, Dr. Castanet was able to get me into his office and provide relief! With all the knowledge he has given me, I now hear his voice with every move I make so that I can keep my "Back Strong". I feel like I'm not in this alone, and he has a pathway to my relief! Thank you Dr. Castanet for never losing your passion in this profession after 33 years!
By the time I found Dr. Castanet I felt hopeless - basically handicapped, in constant pain, unable to stand up, etc. Over my appointments with Dr. Castanet, he explained what happens with back injuries and the associated sciatica/neuropathy, and what all the eventual options/outcomes are. His treatment is conservative and logical which is an appropriate first step. For me though, these conservative steps weren't enough. Here's why I would still tell ANYONE with back pain to see him: You need to start conservatively, his treatment has a good track record, Dr. Castanet knows when conservative steps aren't sufficient, and he knows where to send you next, nor is he ashamed to do so. More medical professionals need this attitude. In my research, it became apparent that most Chiropractic treatment is cult-like and all-or-nothing in its method, maybe even adversarial with other specialties such as orthopedists or neurosurgeons; this is not the case with Dr. Castanet. He is a part of a community I now know exists of dedicated back pain specialists in the area. His advice and guidance are what kept me sane, and got me along the correct path to my eventual solution. As he said to me: "Let's get your life back." I am confident that had I not found Dr. Castanet, I wouldn't have had the eventual outcome I did, or gotten my life back. He cares; he knows what's going on and isn't confined to his silo. He will either help you or guide you where you need to go next - either of which is priceless. Go get your life back.
I would like to highly recommend Dr. Castanet for anyone experiencing back pain. It took several treatments for me and pain is almost gone. His treatment method is relaxing and effective! And Very affordable! Dr. Castanet is very knowledgeable and kind!
If you're looking for help with your neck or back pain, and looking for physical therapy or chiropractic in Decatur or Atlanta, call us for an immediate appointment with Dr. Craig Castanet.
CALL US NOW !!
Find Us On Google Map