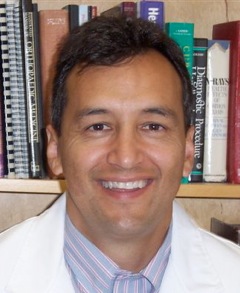 Dr. Craig Castanet graduated from Palmer-West Chiropractic College in 1986. He has 29 years clinical experience; 18 years in an orthopedic, physical medicine and physical therapy clinic, participating in the treatment of 36,000 patients. He also dedicated time each week, for four years, in a neurosurgical practice, learning surgical indications and procedures. Unlike most chiropractors, he has always had a decidedly "medical orientation". He has excellent professional relationships with pain physicians, orthopedists and neurosurgeons because, sometimes, injections and surgery are appropriate.
He has always sought the best, newest tools and methods in patient treatment. His exceptional interest and competency in treating neck and back pain derives, in part, from his personal experience suffering from sciatica for 6 years, previously. Such chronic pain provides the kind of insight and empathy that books, alone, cannot.
Dr. Castanet is certified in physiotherapy, functional capacity evaluations, Medx spinal rehabilitation, whiplash and brain traumatology, active release techniques, spinal decompression, ATM-2, MRI interpretation, spinal biomechanics, functional medicine, Colossus and has conducted more than 1,000 nerve conduction studies and performed more than 100 FCE's.
In recent years, Dr. Castanet had developed an intense interest, and expertise, through post-graduate Functional Medicine certification, in treating autoimmune diseases, e.g. Crohn's, Ulcerative Colitis, Multiple Sclerosis, Rheumatoid Arthritis, etc., metabolic diseases, e.g. type 2 diabetes, and obesity. These diseases are curable through a scientific approach, using functional medicine to address the root causes of these diseases, rather than managing the signs and symptoms of disease with pharmaceutical medications. His functional medicine approach does not aim to manage signs and symptoms, but rather to cure these diseases. And they are definitely curable. Functional medicine is a science-based, more ambitious and humane approach to treating chronic, debilitating diseases. These are lifestyle diseases. Detrimental lifestyle behaviors, i.e. epigenetic factors, eventually causes these diseases, if you have a genetic predisposition. And reversing these diseases is as simple as reversing your lifestyle behaviors, i.e. epigenetic factors. Dr. Castanet has personally adopted a healthy, anti-inflammatory, anti-autoimmune lifestyle, so he can teach you how to cure your diseases.
If you're looking for Decatur physical therapy, Tucker physical therapy or Atlanta physical therapy, you've have found the best. And if you're looking for a Decatur chiropractor, Atlanta chiropractor or Tucker chiropractor, Dr. Castanet is the best. Call us right now at 404-558-4015.
Dr. Castanet's Educational History:
SELECTED OCCUPATIONAL HISTORY
Clinic Director/Founder, Chiropractor, Backstrong Non-Surgical Rehab Clinic, Tucker, GA, 2005- present
Chiropractor, Rehab Orthopedic Medicine, Decatur, GA, 1989-2005
Chiropractor, Neuromusculoskeletal Diagnostics, Decatur, GA, 1987-1989
EDUCATION & LICENSURE
Doctor of Chiropractic, Licensed in Georgia, License #2767, 1988-present
Doctor of Chiropractic, Licensed in Florida, License #5661, 1987-1989
Doctor of Chiropractic, Licensed in California, License #18621, 1987-1989
Doctorate of Chiropractic, Palmer College of Chiropractic-West, Sunnyvale, CA, 1986
National Board of Chiropractic Examiners, Part I, 1985
National Board of Chiropractic Examiners, Part II, 1985
College of San Mateo, San Mateo, CA, 1977-1983
Prairie State College, Chicago Heights, IL, 1977
SELECTED POST-GRADUATE EDUCATION, CERTIFICATIONS and DIPLOMATES
Certified Functional Medicine Practitioner, 200 post-graduate hours, Functional Medicine University, Southern California University of Health Sciences, June 2014
Colossus Training for Assessing General Damages for Bodily Injury Evaluation and Diagnosis, Personal Injury Training, Trauma patient care and Advanced Documentation Protocols, Personal Injury Institute, July 2013
Spinal Biomechanical Engineering: Cartesian System, The Cartesian Coordinate System from the history to the application in the human body. Explanation of the x, y and z axes in both translation and rotations (thetas) and how they are applicable to human biomechanics. [Insert the state licensure body sent to you], ACCME Joint Sponsorship with the State University of New York at Buffalo, School of Medicine and Biomedical Sciences, Academy of Chiropractic Post Doctoral Division, Buffalo, NY, 2013
Spinal Biomechanical Engineering: Cervical Pathobiomechanics, Spinal biomechanical engineering of the cervical and upper thoracic spine. This includes the normal and pathobiomechanical movement of both the anterior and posterior motor units and normal function and relationship of the intrinsic musculature to those motor units. Nomenclature in reporting normal and pathobiomechanical findings of the spine. [Insert the state licensure body sent to you], ACCME Joint Sponsorship with the State University of New York at Buffalo, School of Medicine and Biomedical Sciences, Academy of Chiropractic Post Doctoral Division, Buffalo, NY, 2013
Spinal Biomechanical Engineering: Lumbar Pathobiomechanics, Spinal biomechanical engineering of the lumbar spine. This includes the normal and pathobiomechanical movement of both the anterior and posterior motor units and normal function and relationship of the intrinsic musculature to those motor units. Nomenclature in reporting normal and pathobiomechanical findings of the spine. [Insert the state licensure body sent to you], ACCME Joint Sponsorship with the State University of New York at Buffalo, School of Medicine and Biomedical Sciences, Academy of Chiropractic Post Doctoral Division, Buffalo, NY, 2013
Spinal Biomechanics in Trauma, To utilize whiplash associated disorders in various vectors of impact and whiplash mechanisms in determining pathobiomechanics. To clinically correlate annular tears, disc herniations, fractures, ligament pathology and spinal segmental instability as sequellae to pathobiomechanics from trauma. The utilization of digital motion x-ray in diagnoising normal versus abnormal facet motion along with case studies to understand the clinical application. [Insert the state licensure body sent to you], ACCME Joint Sponsorship with the State University of New York at Buffalo, School of Medicine and Biomedical Sciences, Academy of Chiropractic Post Doctoral Division, Buffalo, NY, 2013
Spinal Biomechanical Engineering & Organizational Analysis, Integrating spinal biomechanics and pathobiomechanics through digitized analysis.The comparison of organized versus disorganized compensation with regional and global compensation. Correlation of the vestibular, occular and proprioceptive neurological integration in the righting reflex as evidenced in imaging. Digital and numerical algorithm in analyzing a spine. [Insert the state licensure body sent to you], ACCME Joint Sponsorship with the State University of New York at Buffalo, School of Medicine and Biomedical Sciences, Academy of Chiropractic Post Doctoral Division, Buffalo, NY, 2013
Spinal Biomechanical Engineering: Cervical Digital Analysis, Digitizing and analyzing the cervical spine in neutral, flexion and extension views to diagnose pathobiomechanics. This includes alteration of motion segment integrity (AMOSI) in both angular and translational movement. Ligament instability/failure/pathology are identified all using numerical values and models. Review of case studies to analyze pathobiomechanics using a computerized/numerical algorithm. [Insert the state licensure body sent to you], ACCME Joint Sponsorship with the State University of New York at Buffalo, School of Medicine and Biomedical Sciences, Academy of Chiropractic Post Doctoral Division, Buffalo, NY, 2013
Spinal Biomechanical Engineering: Lumbar Digital Analysis, Digitalizing and analyzing the lumbar spine images to diagnose pathobiomechanics. This includes anterior and posterior vertebral body elements in rotatioal analysis with neutral, left and right lateral bending in conjunction with gate analysis. Ligament instability/failure/pathology is identified all using numerical values and models. Review of case studies for analysis of pathobiomechanics using a computerized/numerical algorithm along with corrective guidelines. [Insert the state licensure body sent to you], ACCME Joint Sponsorship with the State University of New York at Buffalo, School of Medicine and Biomedical Sciences, Academy of Chiropractic Post Doctoral Division, Buffalo, NY, 2013
Spinal Biomechanical Engineering: Full Spine Digital Analysis, Digitalizing and analyzing the full spine images to diagnose pathobiomechanics as sequellae to trauma in relation to ligamentous failure and disc and vertebral pathology as sequellae. This includes anterior and posterior vertebral body elements in rotatioal analysis with neutral, left and right lateral bending in conjunction with gate analysis. Ligament instability/failure/pathology is identified all using numerical values and models. Review of case studies for analysis of pathobiomechanics using a computerized/numerical algorithm along with corrective guidelines. [Insert the state licensure body sent to you], ACCME Joint Sponsorship with the State University of New York at Buffalo, School of Medicine and Biomedical Sciences, Academy of Chiropractic Post Doctoral Division, Buffalo, NY, 2013
Whiplash and Brain Injury Traumatology, Module 2, Accident Reconstruction Primer, History Taking, Physical Examination, Radiographic Examination, CT Examination, MRI Examination, Special Diagnostic Imaging, Electrodiagnostics, Summary of Diagnostic Testing, Diagnosis/Impression. Spine Research Institute of San Diego, Southern California University of Health Sciences, Whittier, CA, 2012
Credentials and Clinically Correlating Causality, The significance documentation and credentials in the personal injury field with a focus on clinically correlating causality, bodily injury and persistent functional loss as sequellae. Academy of Chiropractic Post Doctoral Division, New York Chiropractic Council, New York State Department of Education, Board for Chiropractic, Long Island, NY, 2012
Whiplash and Brain Injury Traumatology, Module 1, Basic and special concepts of biomechanics, injury impairment scales, epidemiology of whiplash, brain, neck and cervical spine trauma mechanisms from motor vehicle crashes, soft tissue injuries, common syndromes, conditions affecting muscles, pain syndromes, outcome of cervical acceleration/deceleration injury. Spine Research Institute of San Diego, Southern California University of Health Sciences, Whittier, CA, 2012
Chiropractic and Beyond, Radiological review, spinal case studies, lumbar spine surgery, orthopedic evaluation and treatment of the knee, extremity adjusting workshop, extremity evaluation and treatment, risk management/Georgia Law. Life College of Chiropractic, Marietta, GA, 2012
MRI History and Physics, Magnetic fields, T1 and T2 relaxations, nuclear spins, phase encoding, spin echo, T1 and T2 contrast, magnetic properties of metals and the historical perspective of the creation of NMR and MRI. New York Chiropractic Council, New York State Department of Education, Board for Chiropractic, AACME Joint Sponsorship with the State University of New York at Buffalo, School of Medicine and Biomedical Sciences and CMCS Post Doctoral Division, Buffalo, NY, 2011
MRI Spinal Anatomy and Protocols, Normal anatomy of axial and sagital views utilizing T1, T2, 3D gradient and STIR sequences of imaging. Standardized and desired protocols in views and sequencing of MRI examination to create an accurate diagnosis in MRI. New York Chiropractic Council, New York State Department of Education, Board for Chiropractic, AACME Joint Sponsorship with the State University of New York at Buffalo, School of Medicine and Biomedical Sciences and CMCS Post Doctoral Division, Buffalo, NY, 2011
MRI Disc Pathology and Spinal Stenosis, MRI interpretation of bulged, herniated, protruded, extruded, sequestered and fragmented disc pathologies in etiology and neurological sequelae in relationship to the spinal cord and spinal nerve roots. New York Chiropractic Council, New York State Department of Education, Board for Chiropractic, AACME Joint Sponsorship with the State University of New York at Buffalo, School of Medicine and Biomedical Sciences and CMCS Post Doctoral Division, Buffalo, NY, 2011
MRI Spinal Pathology, MRI interpretation of bone, intradural, extradural, cord and neural sleeve lesions. Tuberculosis, drop lesions, metastasis, ependymoma, schwanoma and numerous other spinal related tumors and lesions. New York Chiropractic Council, New York State Department of Education, Board for Chiropractic, AACME Joint Sponsorship with the State University of New York at Buffalo, School of Medicine and Biomedical Sciences and CMCS Post Doctoral Division, Buffalo, NY, 2011
MRI Methodology of Analysis, MRI interpretation sequencing of the cervical, thoracic and lumbar spine inclusive of T1, T2, STIR and 3D gradient studies to ensure the accurate diagnosis of the region visualized. New York Chiropractic Council, New York State Department of Education, Board for Chiropractic, AACME Joint Sponsorship with the State University of New York at Buffalo, School of Medicine and Biomedical Sciences and CMCS Post Doctoral Division, Buffalo, NY, 2011
MRI Clinical Application, The clinical application of the results of space occupying lesions. Disc and tumor pathologies and the clinical indications of manual and adjustive therapies in the patient with spinal nerve root and spinal cord insult as sequelae. New York Chiropractic Council, New York State Department of Education, Board for Chiropractic, AACME Joint Sponsorship with the State University of New York at Buffalo, School of Medicine and Biomedical Sciences and CMCS Post Doctoral Division, Buffalo, NY, 2011
Managing Back Pain: Coordinating Evidence-Based Approaches Across Disciplines, Presentation by neurosurgeon, pain physician, chiropractor and physical therapist on interdisciplinary cooperation in patient management. Dekalb Medical Center, Decatur, GA, 2010
Documentation, Georgia Jurisprudence, Healthcare Compliance, Review of numerous, typical and atypical patient complaints, ethical physician behavior, risks, management and prevention. DC Hours.com, 2010
Functional Blood Chemistry Analysis, Functional blood testing, conceptual basis, optimal parameters, evaluation, review with patients, pathological findings, disease entities and appropriate treatment. Apex Energetics, Atlanta, GA, 2010
Certification, Non-Surgical Spinal Decompression Treatment, Kennedy Seminar, Charlotte, NC, 2009
Active Therapeutic Movement, Concept Core Stabilization, Review of the concept, research, and utilization of the Active Therapeutic Movement in treatment of acute and chronic spinal and appendicular pain syndromes. BackProject Corporation Education Services,Charlotte, NC,2009
Twenty-Second Annual Scientific Session and Business Meeting, Review of the AMA Guides to the Evaluation of Permanent Impairment, 6th Edition, and related presentations and topics. Preparation for certification in evaluation of disability and impairment rating. American Academy of Disability Evaluating Physicians, Palm Springs, CA, 2009
Kennedy Decompression Technique, Certification Training in Spinal Decompression and Active Therapeutic Movement, Theoretical and practical topics on evaluation, triage and clinical outcomes using spinal decompression and the ATM machine. Kennedy seminars, Charlotte, NC, 2009
MRI Interpretation of Spinal Cord, Spinal Disc and Spinal Canal Disorders, MRI interpretation of herniated, protruded, extruded, bulged and sequestered discs & spinal stenosis as sequelae of ligamentous hypertrophy, congenital malformation, spinal cord pathology. Clinical necessity and contraindications. Robert Peyster MD, DABR, CAQ-NR, Neuroradiologist. CMCS Post Doctoral Division, New York Chiropractic Council, New York State Department of Education, Ronkonkoma, NY, 2009
Certification in Evaluation of Disability and Impairment Rating (CEDIR), 6th Edition Guides to the Evaluation of Permanent Impairment, American Academy of Disability Evaluating Physicians (AADEP), Orlando, FL, 2009
AMA Guides to the Evaluation of Permanent Impairment 6th Edition, Clinically coordinating spinal pathology with neurological and functional sequelae including station & gait, migraines, sexual dysfunction, sleep & arousal disorders, paroxysmal disorders, radiculopathic disorders and central nervous system disorders. CMCS Post Doctoral Division, New York Chiropractic Council, New York State Department of Education, Ronkonkoma, NY, 2009
MRI Interpretation of Herniated Disc and Spinal Cord and Root Encroachment, MRI interpretation of herniated, protruded, extruded, bulged and sequestered discs and their relationship to the spinal cord and spinal nerve roots and the clinical correlation to spinal adjustments, manual spinal therapy and joint mobilization. Magdy Shady MD, Neurosurgeon, Neuro-Trauma Surgery, CMCS Post Doctoral Division, New York Chiropractic Council, New York State Department of Education, Ronkonkoma, NY, 2009
2nd Annual Spinal Update for Primary Care Physicians, Cervical and lumbar spine surgery, pain management, physical therapy and chiropractic treatments for various spinal pathology. Piedmont Spine Center,Atlanta, GA, 2009
Chiropractic and Beyond, Multi-Disciplinary Continuing Education Program, Orthopedic, X-ray, Dental and Chiropractic Evaluation and Treatment. Life College of Chiropractic, Marietta, GA, 2008
A Spinal Update For Primary Care Providers, Review of various spinal pathology, surgical indications and neurological pathology. Piedmont Spine Center, Atlanta, GA, 2008
Neurodiagnostics, Imaging Protocols and Pathology of the Trauma Patient, An in-depth understanding of the protocols in triaging and reporting the clinical findings of the trauma patient. Maintaining ethical relationships with the medical-legal community. CMCS Management Post Doctoral Division, New York Chiropractic Council, New York State Department of Education Board for Chiropractic, Long Island, NY, 2008
Diagnostics, Risk Factors, Clinical Presentation and Triaging the Trauma Patient, An extensive understanding of the injured with clinically coordinating the history, physical findings and when to integrate neurodiagnostics. An understanding on how to utilize emergency room records in creating an accurate diagnosis and the significance of "risk factors" in spinal injury. CMCS Management Post Doctoral Division, New York Chiropractic Council, New York State Education Department Board for Chiropractic, Long Island, NY, 2008
Crash Dynamics and its Relationship to Causality, An extensive understanding of the physics involved in the transference of energy from the bullet car to the target car. This includes G's of force, Newtons, gravity, energy, skid marks, crumple zones, spring factors, event data recorder and the graphing of the movement of the vehicle before, during and after the crash. Determining the clinical correlation of forces and bodily injury. CMCS Management Post Doctoral Division, New York Chiropractic Council, New York State Education Department Board for Chiropractic, Long Island, NY, 2008
MRI, Bone Scan & X-Ray Protocols, Physiology and Indications for the Trauma Patient, MRI interpretation, physiology, history and clinical indications, Bone Scan interpretation, physiology and clinical indications, x-ray clinical indications for the trauma patient. CMCS Management Post Doctoral Division, New York Chiropractic Council, New York State Education Department Board for Chiropractic, Long Island, NY, 2008
Neurodiagnostic Testing Protocols, Physiology and Indications for the Trauma Patient, Electromyography (EMG,) Nerve Conduction Velocity (NCV,) Somato Sensory Evoked Potential (SSEP,) Visual Evoked Potential (VEP,) Brain Stem Auditory Evoked Potential (BAER) and Visual-Electronystagmosgarphy (V-ENG) interpretation, protocols and clinical indications for the trauma patient. CMCS Management Post Doctoral Division, New York Chiropractic Council, New York State Education Department, Board for Chiropractic, Long Island, NY, 2008
Documentation and Reporting for the Trauma Victim, Understanding the necessity for accurate documentation and diagnosis utilizing the ICD-9 and the CPT to accurately describe the injury through diagnosis. Understanding and utilizing state regulations on reimbursement issues pertaining to healthcare. CMCS Management Post Doctoral Division, New York Chiropractic Council, New York State Education Department, Board for Chiropractic, Long Island, NY, 2008
Documenting Clinically Correlated Bodily Injury to Causality, Understanding the necessity for accurate documentation, diagnosis and clinical correlation to the injury when reporting injuries in the medical-legal community. Documenting the kinesiopathology, myopathology, neuropathology, pathophysiology in both a functional and structural paradigm. CMCS Management Post Doctoral Division, New York Chiropractic Council, New York State Education Department, Board for Chiropractic, Long Island, NY, 2008
Neuropathic Pain Syndromes: New Localized Therapeutic Options, Invasive, injection and pharmacologic alternatives for patients in acute and chronic pain. American Academy of Pain Management,New York, NY, 2008
Diplomate, American Academy of Pain Management, 2008
Diplomate, American Academy of Medical Legal Professionals, 2008
Pain, Risk Management and Georgia Law, Review of Recent Medicolegal cases, their outcomes, lessons learned and risk management by physicians. University of Bridgeport,Bridgeport, CT, 2007
Certified Spinal Decompression Practitioner, SpineMED Spinal Decompression, Baltimore, MD, 2006
Certified Practitioner in Active Release Techniques of the Spine, Dallas, TX, 2006
Risk Management and Georgia Law, Review of recent medicolegal complaints and cases, proper management and prevention. University of Bridgeport, Bridgeport, CT, 2006
Spine Certification, Active Release Techniques for the spine, New York Chiropractic College, Seneca Falls,NY,2006
Compliance Guidelines for Documentation, Proper patient documentation for treatment, billing and collections. University of Bridgeport, Bridgeport, CT, 2005
Whiplash and Brain Injury Traumatology, Module 1, Basic and special concepts of biomechanics, injury impairment scales, epidemiology of whiplash, brain, neck and cervical spine trauma mechanisms from motor vehicle crashes, soft tissue injuries, common syndromes, conditions affecting muscles, pain syndromes, outcome of cervical acceleration/deceleration injury. Spine Research Institute of San Diego, Southern California University of Health Sciences, Whittier, CA, 2005
Whiplash and Brain Injury Traumatology, Module 2, Accident reconstruction primer, history taking, physical examination, radiographic examination, CT examination, MRI examination, special diagnostic imaging, electrodiagnostics, summary of diagnostic testing, diagnosis and Impression. Spine Research Institute of San Diego, Southern California University of Health Sciences, Whittier, CA, 2005
Whiplash and Brain Injury Traumatology, Module 3, Intake forms, SOAP notes, re-examinations and supplemental reports, the narrative report, special procedures, disability questionnaires, independent medical examinations, practice and development. Spine Research Institute of San Diego, Southern California University of Health Sciences, Whittier, CA, 2005
Whiplash and Brain Injury Traumatology, Module 4, Reporting, records keeping, medical photography, depositions, arbitrations, testifying in court, using evidence, medicolegal rebuttal, Daubert and Frye, and motions in limine. Spine Research Institute of San Diego, Southern California University of Health Sciences, Whittier, CA, 2005
Ethical Standards for Proper Payment, Review of CPT and ICD-9 coding and billing for patient care. Chirocode Seminars, Atlanta, GA, 2005
Certification Whiplash and Brain Traumatology, Spine Research Institute, San Diego, CA, 2005
Whiplash Syndromes, A review of whiplash dynamics, mechanics, injury, evaluation, treatment and long-term outcomes. University of Bridgeport, Bridgeport, CT,2004
Clinical Documentation of Spinal Pain Syndromes, Risk Management and Georgia Law, Various painful spinal entities, their assessment, management and appropriate referrals. University of Bridgeport, Bridgeport, CT,2003
Rehabilitation of the Spine, Georgia Law and Risk Management, The growing trend in chiropractic physical rehabilitation, equipment, rationale, methods, efficacy and benefit. New York Chiropractic College, Levittown, NY,2002
Risk Management, Review of common medicolegal complaints, concerns and preventive measures for physicians risk management. Georgia Council of Chiropractic, Marietta, GA, 2001
Solving the Puzzle of Chiropractic, Various topics in patient diagnostics and treatment. Lincoln College of Post-Professional Graduate and Continuing Education, Lombard, IL,2001
New Era in Whiplash and Spinal Trauma, Review of the scientific literature on crash dynamics, injuries, assessment and patient care. Life College of Chiropractic-West, Atlanta, GA, 2001
Clinical Assessment Program, Primary Assessment: Diagnosis, Evaluation and Management, Physical examination and history to differentiate pain of spinal vs. visceral etiology. Logan College of Chiropractic, Chesterfield, MO, 2000
Neuromechanical Innovations in Patient Case Management, Low-force, mechanical instrumented manipulation in chiropractic patient care – the science, merits and efficacy. Life University, Marietta, GA, 2000
Whiplash and Spinal Trauma, Part 1, Crash dynamics and patient injuries reviewed. Life Chiropractic College-West, Atlanta, GA, 1999
Risk Management and Jurisprudence, Clinical Whiplash, Ethical clinical conduct, auto accident trauma and patient treatment. New York Chiropractic College, Seneca Falls, NY, 1999
Clinical and Legal Implications, Review of patient care, documentation and medicolegal concerns. National-Lincoln School of Post-Graduate Education, Lombard, IL, 1998
Risk Management Seminar, Review of potential clinical risks and ethical physician conduct. National Chiropractic Mutual Insurance Company/Triad, Des Moines, IA, 1998
Medical and Operational Issues, Forensic Issues, History of Functional Capacity Evaluations, Review of the origins, rationale and methodologies of functional capacity evaluations. University of Florida- Intelicus, Ocoee, FL, 1998
Comprehensive Chiropractic Managed Care Self-Assessment Program- Volume 1, Instruction and testing in clinically appropriate, patient management. National College of Chiropractic, Northwestern College of Chiropractic and Healthcare Education Associates, Lombard, IL, 1998
Comprehensive Chiropractic Managed Care Self-Assessment Program- Volume 2, Instruction and testing in clinically appropriate patient management. National College of Chiropractic, Northwestern College of Chiropractic and Healthcare Education Associates, Lombard, IL, 1998
Comprehensive Chiropractic Managed Care Self-Assessment Program- Volume 3, Instruction and testing in clinically appropriate patient management. National College of Chiropractic, Northwestern College of Chiropractic and Healthcare Education Associates, Lombard, IL, 1998
Medical Fitness: Strategies for Today's Healthcare Leaders, The growing trend and merits in hospital-based wellness centers. The Association of Hospital Health and Fitness/Medical Fitness Association, Chicago, IL, 1997
Rehabilitation of the Spine, Present concepts in spinal pathology and clinical treatment rehabilitation protocols. University of Florida College of Medicine, Gainesville, FL, 1997
Comprehensive Spine and Joint Care from Exercise to Outcomes, Review of Medx spinal rehabilitation literature and patient outcomes. University of California, San Diego School of Medicine, La Jolla, CA, 1996
Differential Diagnosis of Pain, Review of mechanical, neurologic and visceral sources of pain, and differential diagnosis. Parker College of Chiropractic, Dallas, TX, 1996
Certified functional capacity evaluator, Employment Potential Improvement Corporation, functional capacity evaluations, University of California, San Diego, Orthomed Center, La Jolla, CA, 1996
Radiologic Review, Review of x-rays for primary and incidental pathology and findings. Life College of Chiropractic, Marietta, GA, 1995
Objective Measurement of Soft-Tissue Injury, Diagnosis, assessment and evaluation of soft-tissue injuries. University of California, San Diego School of Medicine, Department of Orthopedics, La Jolla, CA, 1995
Spine and Strength Symposium, Annual review of the newest in spinal rehabilitation, clinical outcomes, and discussions of chronic pain etiology and psychosocial factors. University of California, San Diego School of Medicine, La Jolla, CA, 1994
Mazion's Optimal Spinal, Disability and impairment evaluation and rating, and independent medical examinations. Parker College of Chiropractic,Life College of Chiropractic, Dallas, TX, 1994
Validating Chiropractic and Documentation, Review of the fundamental science of manipulative lesions, treatment, mechanisms of action and the scientific literature. Life Chiropractic College, Marietta, GA, 1994
Chiropractic Roentgenology, Review of x-ray pathologies commonly encountered on conventional radiographs and appropriate triage of patients. Palmer Chiropractic College, Davenport, IA, 1993
Exercise Rehabilitation of the Spine, Medx spinal rehab literature review, epidemiologic data on spinal pain, and various presenter's review of outcome data. University of Florida, College of Medicine, Gainesville, FL, 1993
Industrial Back Injury Prevention and Management, Theory and Practice, The factors of causation in industrial spinal injuries, and their prevention. Duane Saunders, Bloomington, MN, 1991
Musculoskeletal Evaluation and Rehabilitation, The new science of spinal rehabilitation: data, theory and practice of Medx Spinal Rehabilitation. University of Florida Center for Exercise Science, Colleges of Medicine and Health and Human Performance, Gainesville, FL, 1991
Certified in Spinal Rehabilitation, Medx Cervical and Lumbar Rehabilitation, University of Florida, Gainesville, FL, 1991
New Frontiers for the Industrial Spine: Sports Medicine for Working People, Review of the changing view of spinal injuries, psychosocial factors, assessment, treatments and prevention. Pride Research Foundation, Dallas, TX, 1990
Roentgenology, Orthopedics, Neurology, Physical Diagnosis and Chiropractic Science, Topics and presentations related to x-rays, physical evaluation, diagnoses and the efficacy of chiropractic treatments. Advanced Chiropractic Seminars, Wilmington, DE, 1987